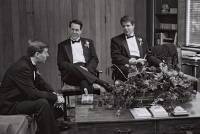 Dear Friends and Family,
Photographs of our wedding are available online! Go to
http://www.pictage.com/event.jsp?event_id=42246
to see the website.
This site requires you to register with your name, email address and password of your choice (use the NEW USERS REGISTER NOW link near the bottom of the page). If prompted, enter the Event Key, which is 42246. The page may also appear blank. Just click on the "Event Home" link at the top.
If you are like Justin and hate giving out your e-mail for no other reason than some company wants to send you spam, then click on the mailinator link on the right for an easy way to keep your email confidential!)
The website of our images is only available for a limited time. Enjoy!